Jive Turkey Players
Jive Turkey Players (JTP) was formed out of the rhythm section of Mingus Young. I play Rhodes and a Roland M-VS1 vintage synth module for some very cool sounds.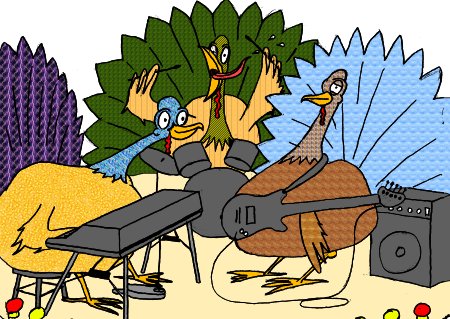 Jive Turkey Players is:
Liam – Rhodes/Synths
Bishop – Bass
PJ – Drums
Description from The Jive Turkey Players MySpace Page:
This musical 3 piece began in 2005 while serving as the rhythm section for the national touring group, Mingus Young. Sensing that there was something magical in their combination, they formed Jive Turkey Players (JTP) shortly thereafter for others to share in the experience.

JTP is where sounds of rich analog synths mixed with mellow Rhodes electric piano ride the driving wave of thick, melodic 5-string bass lines and grooving drum beats sprinkled with crash; where the sounds of 70's technology meet the attitudes of the 60's, all cloaked in the mystery of a prohibition-era Speakeasy.

Each performance is unique, leading to unimaginable stories unfolding in the moment. The instrumental nature of the music, speaking to all peoples, unites us in a bath of sight, sound, and emotion. Experience the phenomenon yourself. JTP is playing in a smoky, side-alley hang out near you soon.