JustJuan
JustJuan was a band I joined in Greensboro, NC back in 1997. We played lots of folkie original tunes. This is one of the more memorable bands I have been involved with. The other bandmates and I formed friendships that are still strong today.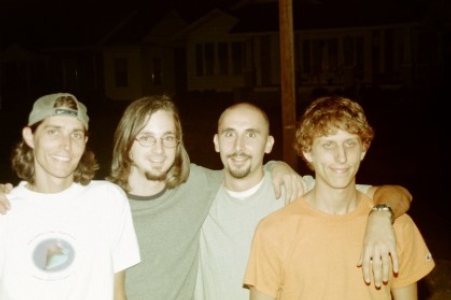 JustJuan (who was later renamed to Blue Shoe Magoo) included (left to right):
Sean Ervin-Guitar/Vocals
William Ammons-Keyboards/Hammond/Vocals
Brendan McCluskey-Drums/Vocals
Joe Waddell-Bass/Vocals
I've included some of our music on this website. Some of the songs come from an old 4-track tape I recently recovered. Enjoy.
This next section was taken from an original JustJuan press release that I found recently. Nice!
JustJuan is a band out of Greensboro, NC
In recent years different genres of music have started to blend into one another. Bands such as JustJuan (who fuse bluegrass, funk, and soul) have brought new music into a tired industry. Take the energy of The Grateful Dead, the improvisation of Phish, the laid back groove of Al Green, mix them all together and sounds of JustJuan come through.
The music of JustJuan is made up of many original and cover tunes. The original music is appealing to many folk and psychodelic music fans. The cover tunes are from bands such as: Phish, Radiohead, The Rolling Stones, Al Green, The Grateful Dead, Bob Marley, War, The Beatles, and Three Dog Night. With such a wide music base JustJuan is the perfect band for any occasion.