The McKees'
Welcome to the only place on the internet featuring the music of The McKees'.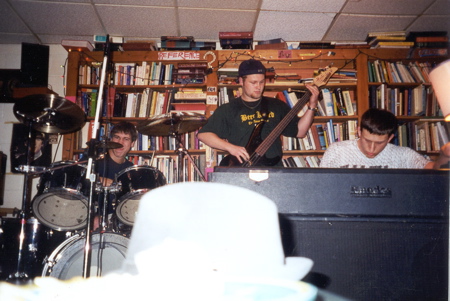 This band satisfied my hunger for both music and food. When the band was first formed, we (the members) would start at BW3's, a local "w'hangs n' b'air" joint. Each of us would order a large basket of wings with our choice of hot sauce. Some would order the Sweet Teriaki Sauce, while others would be a little bolder and order the Wild Sauce. For those interested in meeting their deity of choice, the sauce of choice was Blazin' Sauce – a sauce that produced nothing short of a religious experience. Blazin' Sauce propaganda in the restaurant featured such slogans as "Ever had your taste buds welded together?"
However, with wings in one hand and beer in the other, we were taught the fine art of "Dipping, Stripping, and Flipping", casually referred to as the "dip strip-n-flip". As taught by Jason Buchanan, this technique was most useful when eating wings with the requirement that one hand be clean at all times, whether for grabing a pint, or greeting a friend. Once mastered, it allowed the wielder to grab a wing with one hand, dip it (in Ranch or Blue Cheese), place the entire wing in their mouth, close down to strip the meat off, remove nothing but the wing bone from one's mouth, and flip the remaining bone in the scraps pile.
Having the food (and drink) hunger satisfied we would walk to my house in Chapel Hill, plug in our instruments, and press record. I've provided some of my favorite recordings of The McKees'. This was the first band I played my Fender Rhodes Electric Piano in. I'd love to know what you think.
Oh, I found this text from one of our CD inserts:
The McKees' would like to thank zah teuhrminayetor and friends for making all the fun that has been enjoyed!!! The McKees' would also like to thank the McKee family and their continued nutritional support! Word Carl!
The McKees' are:
Jason Buchanan-Drums
Buddy Priest-Bass
Joe Waddell-Rhodes